Walter "Walt" and Tiffany are minor characters in Clarence. They made their first appearance in "Dinner Party." They are the parents of Breehn.
Appearance
They both looks almost same appearance to their son, Breehn. However, Walt's hair is brown and Tiffany's dirty blonde. They both have black eyes. Tiffany is shown to wear a white-yellow colored turtleneck in Dinner Party and Hairence and is depicted with a blue turtleneck in Gameshow. Unlike their son, their head shape looks identical to Sumo's, not Breehn's.
Personality
Walt and Tiffany are very arrogant, and brag about their new home to all of the other parents. This is shown in Dinner Party.
Episode Appearances

Short Appearances
Trivia
Chad doesn't like them because he thinks they're weird. Mary defends them by saying they're "cultured", but likely changed her mind and considers them "snobs".
They are similar to the Bigheads from Rocko's Modern Life and to the Robinsons from The Amazing World of Gumball.
They most likely blame Mary's family for the destruction of their home.

1: Tiffany noticed that Clarence was curious about going to the attic, even though Breehn told his friends that they couldn't go up there.
2: Chad was the first to burst out though the ceiling when all the other adults were eating.
Gallery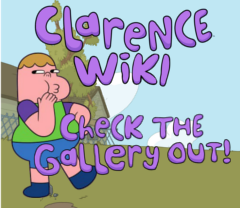 The Gallery For Walt and Tiffany can be found here.
Ad blocker interference detected!
Wikia is a free-to-use site that makes money from advertising. We have a modified experience for viewers using ad blockers

Wikia is not accessible if you've made further modifications. Remove the custom ad blocker rule(s) and the page will load as expected.