Tinia's Mother is a minor character on Clarence.
History
She is usually a background character. Her most notable role was in the episode Patients where she was one of the patients in the waiting room. She is shown to have a daughter, Tinia, a devious little girl who taunts and blackmails Clarence. The woman seems completely disinterested in her daughter and mostly oblivious to her schemes. She also has a baby son named Stuart.
She appears in Money Broom Wizard where it is implied that she may also have an older son as well. Because she does not have a consistent voice it is unknown whether or not she is the same character as it is common practice in animation to reuse character designs.
Appearance
She has orange hair and wears a purple dress. She also has blue shoes.
Episodes
Season 1
Season 2
Gallery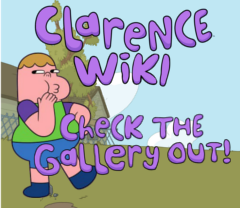 The gallery for Tinia's Mother can be found here.
Trivia
She has no consistent voice actor and therefore sounds different in most of her appearances.
Ad blocker interference detected!
Wikia is a free-to-use site that makes money from advertising. We have a modified experience for viewers using ad blockers

Wikia is not accessible if you've made further modifications. Remove the custom ad blocker rule(s) and the page will load as expected.