The Unnamed Mayor is a minor character in Clarence. He is the mayor of Aberdale.
Appearance
He looks very old, has a receding hair line, consisted with wrinkles on his face, wears glasses, a long sleeve indigo mayor shirt, a dark gray pants with black shoes and a pale yellow sash with the word "Mayor" written in red.
Personality
He appeared to be stubborn, childish, regressive, probably due to age, he seems to rather not take any authoritation from anyone that is trying to tell him what to do.
Episode Appearances
Gallery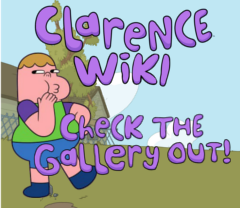 The gallery for "Unnamed Mayor" can be found here.
Ad blocker interference detected!
Wikia is a free-to-use site that makes money from advertising. We have a modified experience for viewers using ad blockers

Wikia is not accessible if you've made further modifications. Remove the custom ad blocker rule(s) and the page will load as expected.