Turtle Hats[1] is the 31st episode in Season 1 of Clarence.
Synopsis
When Ms. Baker accidentally assigns a weekend project on "turtle hats" the students have a hard time understanding what is being asked.
Plot
The episode begins with at the near end of Mrs. Baker's class and all the students were ready leave. Mrs Baker was texting to her new friend, Trey and was giving a fun project to the kids instead of the usual one. She accidentally says Turtle Hats out loud and everyone thought it was their project. The boys, Clarence, Jeff and Sumo were at the "Guys-Scraper" where Clarence and Sumo were having fun and Jeff was trying to figure out what "Turtle Hats" meant.
Sumo draws a poorly made turtle on a sticky note and puts it on his head. Clarence was asking Brady, Vu, Chelsea and Percy who just happened to be in the forest hanging. Brady was by himself and the others were doing a race. Jeff and Sumo went to a little argument and Sumo and Clarence still believed that Sumo was right. They even got caught up in the moment and danced around. Jeff soon left to work on the project by himself. Sumo and Clarence decided to watch a movie about a giant iguana who was president called President Ralph.
They wanted Jeff to watch to but he was studying away from the "Guys-Scraper". Miss Baker was just as perplexed about the text received from Trey. Losing sleep that night, Miss Baker completely lost track of the class and didn't realize that the class heard her say, "Turtle Hats". Not knowing it was also teacher evaluation time, she kind of gave up on the situation. The principal was evaluating the class and Miss Baker. He was very pleased with her and her class. After the principal left the room Miss Baker told the class to put their heads on their desks and take a nap. Then Trey sent Miss Baker another text stating that he meant to say, "Totally Hot". Then another text came back just as fast saying, "Oops wrong person". Miss Baker deletes Trey from her contact list.
Characters
Major Characters
Minor Characters
Gallery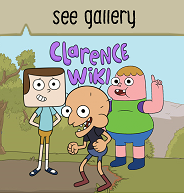 The gallery for Turtle Hats can be found here.
Transcript
The transcript for Turtle Hats can be found here.
Clips
References