Tuckered Boys is the 43rd episode in Season 1 of Clarence.
Synopsis
Jeff is all set to go to bed so he can wake up for the early morning meteor shower when Clarence suggests the unthinkable: What if they stay up – all night long?! As the boys struggle to stay awake, their reality starts to slip away as sleep-deprivation induced hallucinations play tricks with their heads.
Characters
Supporting Characters
Minor Characters
Randy's Dad (debut)
Clerk
Trivia
This is the first episode to have animation on the title card.
As the boys go crazy in the woods, the animation turns different.
Episode Connection
The back of Jeff's underpants say SCS:E which are the initials of the toy line that appears in Jeff's New Toy.
Jeff hallucinating Clarence as a pig is a reference to Hoofin' It.
Cultural References
The Green Alien Clarence bears a resemblance to Dipsy from the 1997 BBC show Teletubbies.
Video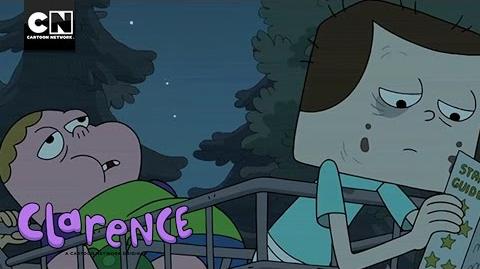 References
Ad blocker interference detected!
Wikia is a free-to-use site that makes money from advertising. We have a modified experience for viewers using ad blockers

Wikia is not accessible if you've made further modifications. Remove the custom ad blocker rule(s) and the page will load as expected.