Time Crimes is the 8th episode of season 2, the 59th episode overall of Clarence.
Synopisis
When Clarence is convinced he has the power to manipulate time he vows to only use his "abilities" for good. However, a day at school puts his morals to the test when he's given the ultimate choice - to help his friends or pause time in the name of fun.
Characters
Supporting Characters
Minor Characters
Gallery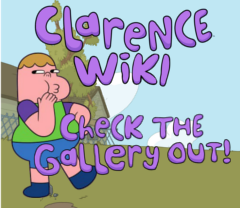 The gallery for "Time Crimes" can be found here.
Transcript
The transcript for "Time Crimes" can be found here.
Trivia
Cultural References
The cereal Clarence is seen playing with resembles Fruit Loops.
When Clarence is in the Future, there is a poster of a helmet that resembles Thomas Bangalter's that appears to be a member of Techno Scarab, which is a parody of Daft Punk.
Video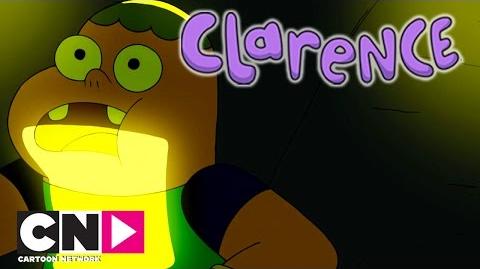 Continuity
In this episode, Mary is seen to be shocked that it's daylight savings time. But in reality, Arizona, the state the show takes place, doesn't recognize daylight savings time as any other states.
Episode Connection
The "BelsonBall" was previously mentioned and seen in "Freedom Cactus" on the newspaper as a ad.
Reference
http://tvschedule.zap2it.com/tv/clarence-time-crimes/EP018697990501?aid=tvschedule
Ad blocker interference detected!
Wikia is a free-to-use site that makes money from advertising. We have a modified experience for viewers using ad blockers

Wikia is not accessible if you've made further modifications. Remove the custom ad blocker rule(s) and the page will load as expected.