The Big Petey Pizza Problem is the 47th episode in Season 1 of Clarence.
Synopsis
Jeff worries that his birthday party will be ruined when he learns that Gilben is having a party at the same place.
Plot
Clarence and Sumo arrive at Jeff's birthday in Pete's Bowling, Clarence discovers that there is pizza, but he is sad to see that everyone has eaten it. After Jeff opens all the gifts (without keeping any), everyone prepares to start playing bowling, but Jeff delays a lot explaining the rules, meanwhile, Clarence discovers that he can win free pizza by knocking down all the bowling pins. When the bowling game starts, no one is lucky enough to knock down a pin, so Jeff comes up with playing himself, but he does not knock down a pin, Clarence and Sumo hear that someone announces a winner and congratulate Jeff, but it turns out that it was Gilben who won, Jeff gets a little nervous about the other birthday. All of Jeff's guests go to Gilben's party, then Clarence takes Jeff to Gilben's party, who knocks back the bowls and wins another pizza. Jeff tries to convince his guests to come back His party, but it does not achieve anything because the employee of Pete's Bowling carries the cake, which even had the name Jeff wrongly written. When they sing the happy birthday, Jeff gets jealous and ruins Gilben's cake, and after he told him something, Jeff attacks him, but Gilben hits him and throws him, at that moment Jeff takes the bowling ball from Sumo and throws it to the pins, achieving a perfect game. Jeff goes outside, reflecting for what he did, Clarence convinces him to go to Gilben's party, Jeff apologizes and Gilben hands him the cake, Jeff asks where he got it and everyone laughs with his response, ending the episode.
Characters
Main Characters
Supporting Characters
Minor Characters
Errors
Amy Shtuzger's pants change to blue.
The number of candles in the cakes is changes from one scene to another.
Gallery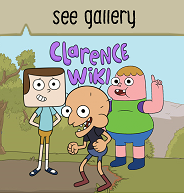 The gallery for The Big Petey Pizza Problem can be found here.
Transcript
The transcript for The Big Petey Pizza Problem can be found here.
Clips