Tappy Cards  are  game cards that appear in "Clarence's Millions". The whole collection must be bought first before playing. As said by the Tappy Cards Kid, he bought them in California which is presumably where they were created.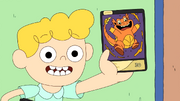 Known Tappy Cards
Meteoric
Level 4 Thundragon with +2 Fire
Divorcion
Wizard Water
Known Players
Episode Appearances
Trivia
Tappy Cards are a parody of Pokémon Cards, Yu-Gi-Oh! cards, and Magic cards.
Meteoric is a parody off the Charmander the Pokemon.