Straight Illin[1] is the thirty-fifth episode in Season 1 of Clarence.
Synopsis
During a series of escalating dares, Clarence eats 500 deviled eggs, growing increasingly more sick.
Plot
The episode begins in the school cafeteria, where Jeff, Sumo, Blaide, Vu and Brady dares Clarence to do several different things. Clarence is shown imitating Ms. Baker, and after that, he accepts to do more things his friends dare him to do. Belson doesn't like Clarence getting all the attention, so he dares Clarence to eat 500 deviled eggs. Belson walks away thinking he put an end to Clarence's dare game, but to his surprise, Clarence starts handing out invitations to everyone in school to watch him eat the eggs. Later in Clarence's yard, Jeff and Sumo looks at the two tables with hundreds of eggs on them. When Clarence arrives, Jeff tries to tell him eating 500 of anything is a bad idea, but the kids start cheering and no one hears Jeff. Clarence starts eating the eggs, and things are going great for a while, but later when there's barely any eggs left, Clarence gets extremely full. Belson is in total surprise that Clarence has already eaten so many, and when Clarence manages to swallow the last egg, all the kids cheer for Clarence, except for Belson, who is angry.
Later, as Jeff, Sumo, Belson and Percy are playing ball, a very ill Clarence wants to join in, but the others think he shouldn't, and despite coughing a lot, Clarence tries to convince Jeff that he's okay. Jeff and the others make excuses that they have to go, and Belson tells Clarence that his face looks gross, then he runs off like the others did. In the classroom, Sumo and Jeff talks about Clarence and how ill he is. Suddenly, Clarence enters the room, looking worse than ever. Clarence shows everyone that he made Clarence Dollars, and Belson tells him he already made those "a hundred years ago", so Clarence starts searching his bag for other stuff to show everyone, but as he's doing so, he continues coughing and sneezing too. Ms. Baker tells him to go see the nurse, but Clarence again denies that he's ill, so he takes his seat in the middle of the room, causing everyone around him to move their desks further away. Jeff tells Sumo they have to get Clarence to see the nurse, so he tells him his plan.
In the cafeteria, Clarence is so ill that he has a hard time eating his pudding. Jeff is one table across from Clarence, and talking to Sumo on the walkie-talkie, who is crawling through the air vent tubes. Sumo has trouble hearing Jeff because the fans are to loud. When Sumo yells over the walkie-talkie, Clarence looks up and sees Jeff. Clarence walks up to Jeff, then he hears Sumo on the walkie-talkie and wonders what game they're playing. Jeff runs out of the cafeteria, and Clarence follows him. Jeff goes in a small closet and goes up through a hole in ceiling. As Sumo continues trying to contact Jeff, Jeff appears and tells him to keep going because Clarence is following them, but Sumo's legs are stuck. At that moment, Clarence appears behind them and sneezes, causing germs to spread all around the school through the air vents. As Clarence continues walking up to Jeff and Sumo, they all fall through the ceiling and into the nurse's room, where everybody else is waiting in line to see the nurse. Nathan is mad at Clarence for causing everyone to get sick. Suddenly, Belson appears with a bag full of eggs and he tells everyone that he's going to eat 600 scrambled eggs. As he's eating, the principal announces that school is cancelled for a week due to the egg virus. All the kids congratulate Clarence and runs out the school, paying no attention to Belson eating the scambled eggs, ending the episode.
Characters
Major Characters
Minor Characters
Errors
In the scene where Clarence has a spoon on his head and Jeff laughs, the back area's top color changes to light blue.
Reception
This episode has received negative reception from a numerous amount of reviewers and fans due to the episode depicting extremely gross content while outright describing the episode being out of place, criticizing Belson as the reasons. The episode was deemed the worst (or one of the worst) episode of the show. The controvesy resulted in the episode being banned unknowingly from Cartoon Network completely (while ocasionally appearing on demand).
On IMDb, the episode was ranked 6.4, as one of the lowest that is ever graded, as user review negatively criticized the episode from having much of the grossed out parts of the character getting sick.
Gallery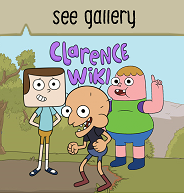 The gallery for Straight Illin can be found here.
Transcript
The transcript for Straight Illin can be found here.
Videos
References