Spooky Boo is the 51st episode of season 1, the 51st overall of Clarence and the season finale of season 1.[1]
Synopisis
After Clarence leads a few neighborhood kids through his homemade haunted house, Chelsea suggests they go to the high school kids haunted house for some real scares. When the gang makes a wrong turn they find themselves in a mysterious house on a hill full of creepy sounds, ghoulish shadows and a mutant rat man![2]
Plot
Clarence shows his homemade haunted house to Chelsea and Mavis, but it seems pathetic, Chelsea suggests asking for candy, Clarence does not want to go because he remembers something that happened to him when he entered Gale's house. Glary mocks Chelsea, then she and the children head to the haunted house of the high school called "Spookabalooza", on the way, Sumo tells the story of the orphanage that caught fire and is now a haunted house. The "Spookabalooza" is not scary and the children ruin everything, making Glary and his friends chase the children, but the teenagers stop to talk to girls. Children enter the aforementioned haunted house. The children begin their search separately; Chelsea and Sumo go together for the rat man; Clarence goes upstairs and Jeff goes wherever he wants. Chelsea and Sumo go down to the basement to look for the rat man, Jeff finds Mavis listening to music in a room, he exaggerates a bit when Mavis puts a ladle in his mouth. Clarence believes that a pumpkin in a wheelchair is the spirit of Mavis. Sumo and Chelsea listen to something in the basement and both get scared. Clarence is scared by a man disguised as a ghost and arrives at the main room of the mansion, there, is full of old people and a lady turn on the lights, Clarence was hitting the ghost because of his fear, but he takes off the disguise and explains that he is the one who made the sound effects. Chelsea assures that the rat man is not real, then the old people start talking to each other and the manager tells them that the rat man is real, what makes Sumo happy. Then the basement closet is seen, a large hand appears through a door and the Little rat gets in there, ending the episode.
Characters
Minor Characters
Gallery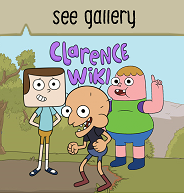 The gallery for Spooky Boo can be found here.
Transcript
The transcript for Spooky Boo can be found here.
Clips
References