Sensei Carlos
is a minor character of
Clarence (series).
Appearance
He's tall, appears as semi-chubby, has tan skin, a gray white hair with one braided up ponytail and has a receding hairline, he wears mostly a gray martial arts robe
Description
He is mainly the martial arts teacher, who teachs the students in all ages to learn the masters of karate, although he personally described as either stoic, he seems that he try not to get angry, especially if it means to deal with Clarence and Sumo's stupidity, which it personally annoys him.
Episodes
Gallery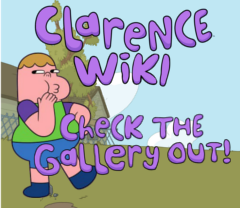 The gallery for Sensei Carlos can be found here.
Trivia