Samuel is a minor/background character in Clarence.
Appearance
He wears a green shirt, green short jeans, green boots and white socks. He has brown skin with slighty long curly hair with one held on one side. He appears to be big and chubby.
Episodes
Season 1
Season 2
Season 3
Gallery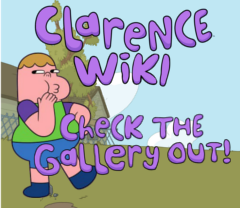 The gallery for Samuel can be found here.
Trivia
In "Pool's Out for Summer", He's shown to make a huge wave when he jumps into the pool.
Ad blocker interference detected!
Wikia is a free-to-use site that makes money from advertising. We have a modified experience for viewers using ad blockers

Wikia is not accessible if you've made further modifications. Remove the custom ad blocker rule(s) and the page will load as expected.