"I think she think's I'm hamburgers"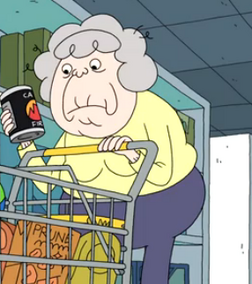 Samantha is a minor character in Clarence.
Information
She has so far appeared three times, not yet having a speaking role aside from making some noises. 
Appearance
She is a larger woman who has gray,curly, somewhat messy hair, a yellow shirt and blue pants. She also has gray shoes. Her face is pale and wrinkled. She has small eyes and rather large jowls.
Episode appearances
Trivia
She is probably senile or has poor vision as she mistakes Clarence for a package of meat in "Lost in the Supermarket."
Ad blocker interference detected!
Wikia is a free-to-use site that makes money from advertising. We have a modified experience for viewers using ad blockers

Wikia is not accessible if you've made further modifications. Remove the custom ad blocker rule(s) and the page will load as expected.