Rough Riders Elementary
Season 1, Episode 26
Premiered:
December 1, 2014 (Aired)

December 5, 2014 (Original airdate)

Written by:
Spencer Rothbell
Storyboarded by:
Brett Varon and Zeus Cervas
Rough Riders Elementary is the twenty-sixth episode in Season 1 of Clarence.
Synopsis
Clarence's school gets a corporate sponsorship, but when it feels like a takeover, Clarence wants to stand up to "the man".
Plot
On Monday, Clarence is eating his Rough Riders Chicken at lunchtime. He tries the new Rough Riders sauce, but he finds it gross. When Jeff and Sumo try the sauce, they find it delicious. In class, Clarence is presenting his report, but Ms. Baker tells him he's out of time because she needs to go to a meeting. Clarence then pretends that he needs to go to the bathroom so he can sneak into the meeting. When he peeks into the meeting, the Rough Riders employees played a video about that the school district has decided to go into business with Rough Riders Chicken, much to Clarence's excitement.
Later that week, on Tuesday, Clarence tells Jeff and Sumo all about what Rough Riders is going to do with the school; most importantly, serve Rough Riders Chicken in the cafeteria and fix up the library. Jeff states that he has a bad feeling about the entire plan, but he decided to ignore it.
Wednesday, the Rough Riders Library is open for all children to get Rough Riders books and chicken for lunch with Rough Riders sauce. In Rough Riders class, Clarence asks Jeff why math class hasn't started. Jeff says he forgot, which is very unlike him, and tells Clarence that he almost has a full coupon book and when Jeff sees that he spilled some sauce on his coupon book, he licks it off, which is also very unlike him.
Thursday, Aberdale Elementary is changed into Rough Riders Elementary. Everyone is hypnotized excluding Clarence. When Clarence asks Jeff why the plan is starting to feel like a takeover, Jeff replies in a hypnotized voice: "Nonsense, Clarence. You are starting to sound like you do not believe in 'Team Rough Riders'."
Friday, the cafeteria had became a Rough Riders Restaurant. Clarence came in finding out that random people had been hypnotized too. He goes into the hallway also finding people hypnotized, sauce everywhere, and posters. He then foreshadows, revealing that the sauce must have hypnotized everyone, so he tries to stop Joshua.
In the room, Joshua gives Sumo a chalice filled with sauce, until Clarence came in the room. He rides on a little platform with wheels and launches himself hitting Joshua, spilling the chalice, hitting Sumo, and knocking the candles over making a fire. Joshua falls into the fire, causing him to turn into a half human, half chicken. Sumo and Clarence bust out of the room, and Clarence's heroes, Nature Kate, Keith Mack, Rake Backburn, and Don Delaio came and blow up Rough Riders Elementary.
At class, Clarence explains to the class why Rough Riders chicken is his favorite food and the students cheer, revealing that the entire plot of the episode was actually Clarence's report.
Characters
Major Characters
Minor Characters
Trivia
It was incorrectly labeled as the 30th episode to air.
Character Connection
Sumo's name is revealed to be "Ryan" in this episode, though only in Clarence's story sequence, so it is debatable.
Episode Connection
On Tuesday, when Jeff opened his locker many stuff can be seen. A vision bee chart from "Puddle Eyes", A horn from "Honk" and a Tonya the Tapir book from "Average Jeff".
Clarence's heroes have been appeared again in this episode: Nature Kate from Nature Clarence, Keith Mack, Rake Backburn and Don Delaio from Man of the House.
Cultural References
The initial episode contains three strong references to Nazi Germany. The first was Chelsea's Hindenburg presentation, about the disaster that occurred to the famous German zeppelin during the 1930's. Second, the cluck cluck hooray salute Joshua used with the students, closely resembling the seig heil salute. Finally, the initial totalitarian regime in the school, presenting everyone as hypnotized zombies controlled by the sauce, in addition to the rough riders personality cult showed towards the end. The Third Reich had all of these characteristics revealed in this episode.
Videos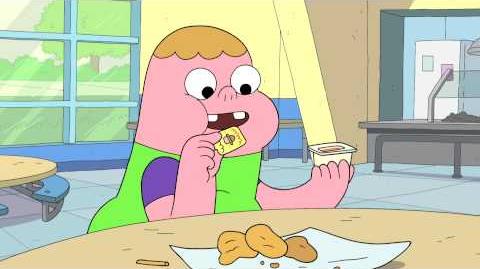 Ad blocker interference detected!
Wikia is a free-to-use site that makes money from advertising. We have a modified experience for viewers using ad blockers

Wikia is not accessible if you've made further modifications. Remove the custom ad blocker rule(s) and the page will load as expected.