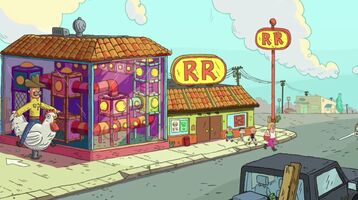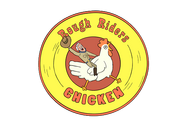 Rough Riders Chicken is a prominent fast food establishment within the Clarence universe, appearing in episodes such as "Fun Dungeon Face Off" and "Rough Riders Elementary." While it could potentially differ in other states, the Aberdale Rough Riders are very dumpy, the inside is decrepit and run-down, piles of litter surround it and the overall atmosphere is very dreary. The Fun-Dungeon is also very dirty.Rough Riders is very similar to McDonalds and K.F.C
Employees
Episode appearances
Menu
Rough Riders Chicken offers a variety of items. The majority are very generic and unappealing, such as the Chicken Parfait.
As seen in the episode "Fun Dungeon Face Off", there are :
The Hip Watcher's Chicken Salad, an obvious nod to Weight Watchers.
The Chicken Burger with Rooster Sauce

Chicken Burger does not include Rooster Sauce every time a Chicken Burger is ordered.
The Scout Meal; containing a burger, a side of fries, a drink and a boy/girl toy, which is all similar to a McDonald's Happy Meal.
Trivia
Ad blocker interference detected!
Wikia is a free-to-use site that makes money from advertising. We have a modified experience for viewers using ad blockers

Wikia is not accessible if you've made further modifications. Remove the custom ad blocker rule(s) and the page will load as expected.