Rock Show is the 4th episode of Season 3, the 94th episode overall of Clarence.
Synopsis
Chad's band, Dogmon, plays a show for the first time in years, giving Clarence and Mary a chance to really rock out.[1]
Plot
The episode begins with Chad and his friends practicing; Mary doubts what dress to wear to not look bad; Clarence jumps in his bed excited for the concert and finds the shirt worn in the "Pilot". Chad and his friends think that nobody will go to the concert, Clarence enters and urges them to do the concert. Mary enters the garage where they practiced, already dressed, but she can not believe that she has dressed in that, she gets annoyed a little knowing that Chad allowed Clarence to go to the concert, he convinces her that he is the biggest fan of Dogmön. Later, everyone arrives at the Pete Bowling Hall, which is where the concert takes place. There, Clarence asks the lady who runs the sound console about the operation of the microphones, but Clarence seems useless.
Clarence wants to help Lauren and sends her to sit because she is pregnant. Mary talks with a partner about her life. At that moment begins the Mind Fertilizer concert. Mary finds Demian in the place and talks to him, but is disappointed to know that he became a priest- Chad comes out of the bathroom and can not believe that Mind Fertilizer keeps playing, even his fans are tired. Clarence makes a "strong battery" but unfortunately his battery parts are broken. When it's Dogmön's turn, Chad's friends fell asleep.
Dogmön has to use the Mind Fertilizer battery because his was broken. Just before the concert starts, a man who sells chili enters and all the guests leave, leaving only the band with Clarence and Mary. Dogmön begins to play his song, then all the guests return. Mary takes the stage and throws herself on the audience, Lauren invites Clarence to play, everyone congratulates him, but he breaks the drums and the Fertilizer girl gets mad at him, the chili lord throws chili in his face, then everyone starts to fight. Mary takes Clarence, Chad and his friends celebrate for the concert and the episode ends.
Characters
Minor Characters
Gallery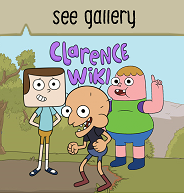 The gallery for Rock Show can be found here.
Transcript
The transcript for Rock Show can be found here.
Clips/Videos
References