Pilot Expansion is the twenty-forth episode in Season 1 of Clarence. It premiered on November 13, 2014.[1]
Synopsis
Clarence, Sumo and Jeff try to recount the day they all met.
Plot
The episode begins exactly 78 and a half years in the future, with Jeff and Sumo arguing about how they first met at a retirement home. Sumo argues they met at a place called Rough Raiders Chicken, but Jeff tells him that they didn't and the name was Rough Riders Chicken. Clarence then stops them and assures them that he knew how they met. He then starts memorizing while the movers transport Sumo's fish tank.
During Clarence's reminisce sequence, the previous events from the Pilot are flashbacked but with a musical montage of Clarence and Sumo teaching Jeff how to play with Clarence's Mystery Pinata. After the flashback, Jeff and Sumo disagree with Clarence's idea and Clarence explains that their memory banks are likely fuzzy. Clarence then stands up and goes for a jog while Larry finishes writing down everything that happened. The retirement home zooms out to show that it was on a space craft with various classmates of Clarence now elderly like the boys. The episodes ends with Clarence jogging on a treadmill doing various antics, only to be fallen off his robotic legs and trapped on the treadmill, shouting for someone to "get him off this crazy thing".
Characters
Main Characters
Minor Characters
Gallery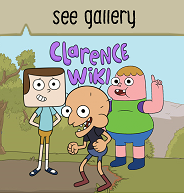 The gallery for Pilot Expansion can be found here.
Transcript
The transcript for Pilot Expansion can be found here.
Clips
References