Neighborhood Grill is the twenty-first episode of Season 1 of Clarence.
Synopsis
Clarence cannot stop himself from intruding on Ms. Baker's date.
Plot
At the end of school, Ms. Baker told the kids to have a great weekend. Dustin comes up to show her his paper hat that he made. Ms. Baker replied that it looked great and that he was wearing it the whole school day. Clarence gets interested in the hat, so he leaves the class and Ms. Baker shuts the door.Later at Chuckleton's, her friend Brenda set a blink date for her. Baker was waiting for him. Josh comes up to her to take her order but then says he will come back for her later. Meanwhile, Mary and Chad ask Clarence what he did at school.
Characters
Minor Characters
Gallery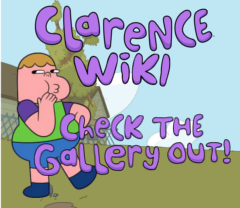 The gallery for Neighborhood Grill can be found here.
Transcript
The transcript for Neighborhood Grill can be found here.
Reception
TBA
Trivia
Episode Connection
Character Connection
Continuity
References
Ad blocker interference detected!
Wikia is a free-to-use site that makes money from advertising. We have a modified experience for viewers using ad blockers

Wikia is not accessible if you've made further modifications. Remove the custom ad blocker rule(s) and the page will load as expected.