Ms. Melanie Baker is a minor/supporting character in Clarence. She is Clarence's teacher at Aberdale Elementary. Her appearance is heavily based on a prototype from the "Pilot" was Mrs. Bernstein.
Appearance
Ms. Baker has thick brown hair that almost reaches her elbows and black eyes. She is tall, thin and wears a purple jacket over a white shirt and yellow pencil skirt. Ms. Baker also wears large round glasses, high white socks and pink heels. she also seems to have small bags under her eyes.
In "Neighborhood Grill", Ms. Baker is set up on a blind date. She doesn't wear her glasses and has bunched up her hair to add volume. She wears a short purple dress with spaghetti straps and pink heels.
Personality
Ms. Baker is very talkative and tends to talk quickly. She is a very patient teacher (putting up with Clarence and his classmates as they cause all sorts of minor problems), but is easily overwhelmed. She is a cat-lover and owns at least one (she has a mug with their picture on it and also a framed picture of the two of them on her desk). She is also shown to be a kind and caring teacher.
Episodes
Season 1
Season 2
Season 3
Shorts
Comics
Gallery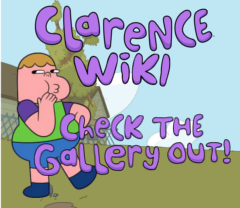 The gallery for Ms. Baker can be found here.
Trivia
Ad blocker interference detected!
Wikia is a free-to-use site that makes money from advertising. We have a modified experience for viewers using ad blockers

Wikia is not accessible if you've made further modifications. Remove the custom ad blocker rule(s) and the page will load as expected.