Tinona Sumouski is a minor character in Clarence. She is the wife of Mel Sumouski and mother to their 12 children, which include Sumo, his brothers and sister.
Biography
Tinona is the mother of 12 children. The family lives on the "right side of the wrong side of the tracks" in a trailer. Most of the children appear to be about the same age and look similar to each other and their father. She appears to be a dutiful, if not overwhelmed, mother of her large family.
She was first mentioned in "Lost in the Supermarket"; Clarence and Sumo are both at the supermarket with their mothers, though Mrs. Sumozski does not appear. Sumo is strapped into the child's seat of the grocery cart, which his mother forces him to do because he attacked an employee last time they were there. 
She makes her first appearance in "Dinner Party", though she doesn't have a speaking role. She, her husband, Mel, Mary and Chad, and Percy's (unnamed) parents are invited to have dinner with Breehn's parents, Walt and Tiffany. They brag about how great their home is, much to the annoyance of their dinner guests.
Appearance
Tinona is a thin woman with a mass of dirty blonde hair. She wears a black, tight-fitting strapless dress with black hoop earrings and red high heeled shoes to Walt and Tiffany's dinner party and is later seen with a pink T-shirt and jean shorts at home.
Episodes
Gallery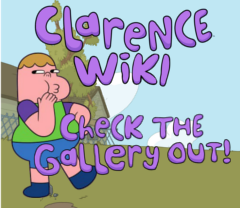 The gallery for Mrs. Sumozski can be found here.
Trivia
She resembles Nancy Gribble from King of the Hill, both physically and vocally.
Her voice actress is also the voice of Joyce Kinny from the Fox TV Series Family Guy.
It's revealed in Clarence - Issue 3, that she works at a nail salon.
Her first name is Tinona, as revealed in Badgers & Bunkers.
Ad blocker interference detected!
Wikia is a free-to-use site that makes money from advertising. We have a modified experience for viewers using ad blockers

Wikia is not accessible if you've made further modifications. Remove the custom ad blocker rule(s) and the page will load as expected.