Mr. Keezheekoni is a character of "Clarence (series)". He is the father of Chelsea and Glary
Appearance
He has brown skin, has a moustache on both sides between the nose, he wears a long green sweater with some cartoon character in the middle. He also has braces like Chelsea and Glary has.
However, in two different scene, it showed a small difference of him, only by the color of his hair, in Chelsea's part, his was shown as pale sandy brown while on Chad's view, his was black.
Description
He appeared in Pizza Hero, when Jeff explained to Chelsea and Chad, who thought that Marianio had helped them to learn about a pie chart, he heavily explained that Marianio had nothing to do with it and said that it was Chelsea's Dad that helped them with.
Episodes
Trivia
His voice actor in "Missing Cat" is Phil LaMarr, who provided voices Futurama, Family Guy, Samurai Jack, Foster's Home for Imaginary Friends and My Gym Partner's a Monkey.
Gallery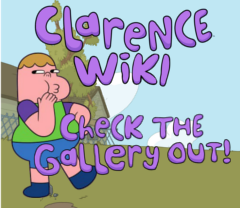 The gallery for "Mr. Keezheekoni" can be found here.