Mel Sumouski redirects here, for another character with the same name, See here.
Mel Sumouski is a minor character in Clarence who makes his first appearance in "Dinner Party". He's the father of Sumo, Sumo's Brothers, Joseph, Tanner and Sumo's Sister and the husband of Tinona Sumouski.
Appearance
Mel looks like an older version of his son, Sumo (although more like Tanner and Joseph). He is a tall, slim man with a brown mullet, a thick handlebar mustache and a black uni brow. Mel wears a black t-shirt, jeans and black shoes. He also has a skull tattoo on his left arm.
Personality
TBA
Relationships
TBA
Gallery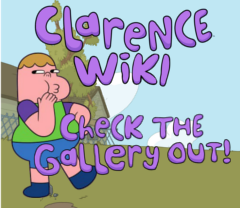 the gallery for Mel Sumozski can be found here.
Ad blocker interference detected!
Wikia is a free-to-use site that makes money from advertising. We have a modified experience for viewers using ad blockers

Wikia is not accessible if you've made further modifications. Remove the custom ad blocker rule(s) and the page will load as expected.