Mavis is a minor background character in Clarence.
Appearance
Mavis has short red hair and wears a tan, short sleeved, turtleneck sweater, dark blue shorts, and violet boots. She is a bit chubby, and short.
Description and Personality
She plays a minor role in the series, and is often seen as a background character. Brady has a big crush on her, but she somewhat not interested in him.
Not much is known about her personality but she may be a shy girl. In "The Forgotten", when Brady walks over to her, she is seen shaking and muttering. Due to her personality and her shaking and muttering, she does not realistically speaks normally like any other students (except Gilben and Memo, who currently does not speak). In "Spooky Boo", Mavis has a fear of fire hydrants. In "Belson Gets a Girlfriend", it's revealed that she has a crush on Dustin.
Gallery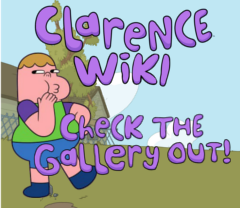 The gallery for Mavis can be found here.