Man of the House
Man of the House[1] is the thirteenth episode in Season 1 of Clarence.
Synopsis
Clarence and his friends spend the night alone for the first time and it quickly spirals out of control.
Plot

The episode begins with a commercial about "Monster Truck Joust Rally", featuring Rake Backburn. Mary and Chad are going to go see the joust,
and they leave Clarence home alone for the first time, but not before Chad gives him the "Man of The House" speech, which Chad words kinda slow. Mary asks Clarence one more time if he's sure about not coming along, but Clarence tells them he just wants some alone time to play with his toys and maybe go to bed early, then Clarence gives them a very cute innocent look, but when Mary and Chad heads out, Clarence tells Jeff and Sumo that it's safe to come out now, and that they can do whatever they want. Clarence fantasizes about playing poker with dogs. Jeff fantasizes about cleaning the house while Sumo and Clarence are in the closet. And Sumo fantasizes about being a General, and separating Florida from the rest of the U.S.

Clarence and Sumo play with a sink sprinkler, and they play baseball with a sandwich and a frozen waffle, and then they play "Toy-nado". Meanwhile, Mary and Chad are watching the joust, and Mary is very ecstatic to see Rake. Back at Clarence's house, he and Sumo play Monster Truck Joust, which is abruptly stopped due to Clarence being naked under his box. Then, he Sumo and Jeff play bowling with ordinary kitchen items, and Clarence won.
Then during a game of Trust Fall, and Clarence has a daydream about Chad (as a Naval Officer), telling him that he needs him to protect the house. This reminds Clarence that Chad's counting on him to be responsible. Then they watch a TV program about home protection. The guy on the show talks about protecting the home from burglers, which makes the boys nervous about burglars breaking in Clarence's house. Suddenly, it begins to storm, and the power goes out for a second, which scares the boys.



At the joust, Mary notices that it's beginning to rain. Chad pulls out the umbrella and they begin to kiss. An announcer says that anyone who has backstage passes can meet Rake Backburn in person. Mary wishes they had backstage passes. Turns out that Chad did get passes, but he accidentally left them at home, so Chad leaves to get the passes. Back at the house, Clarence, Jeff and Sumo sets up tons of man-traps in every room just in case of burglars, and they mistake Chad for one, but they soon realize it's just him. Chad tells them that he has to come in to look for something. The boys let Chad in the house, but they have to remove all of the traps before Chad goes in the rooms where the traps are.


After Chad gets his backstage passes, he walks out of the house unharmed, but the boys had forgot to remove the trap on the front door, so when Chad comes back into the house, he ends up getting hurt. Chad gets taken to the hospital and Mary is back from the joust. Mary congratulates Clarence for taking good care of the house, but when she goes inside the house, she sees the big mess and yells Clarence's name, however, Clarence isn't there anymore, but riding in Rake Backburn's monster truck, Rake says Clarence's mom will be fine after they do a couple of laps around the neighborhood, and the episode ends.
Characters
Minor Characters
Gallery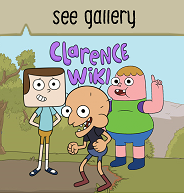 The gallery for Man of the House can be found here.
Transcript
The transcript for Man of the House can be found here.
Clips
References