Lucine is a garbage lady in Clarence. She picks up Clarence's trash. She was first seen in "Rise and Shine".
Appearence
Due to an unknown accident she has an eye patch' similar to Joshua. She wears an orange vest and yellow gloves. Under her vest is a blue shirt.
Episodes
Comic
Gallery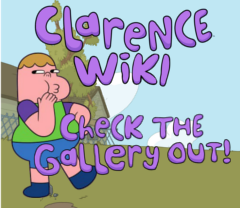 The gallery for "Lucine" can be found here.
Ad blocker interference detected!
Wikia is a free-to-use site that makes money from advertising. We have a modified experience for viewers using ad blockers

Wikia is not accessible if you've made further modifications. Remove the custom ad blocker rule(s) and the page will load as expected.