Lost Playground
Season 2, Episode 2
Premiered:
January 18, 2016
Written by:
Tony Infante

Spencer Rothbell, Tony Infante, and Sam Kremers-Nedell(story)

Storyboarded by:
Jason Dwyer & Roy Camacho
International Airdate:
Feburary 2016 (Asia)
June 5, 2016 (Spain/Portugal)
July 4, 2016 (U.K/LA)
July 2016 (Turkey)
Lost Playground is the 2nd episode of season 2, the 53rd episode overall of Clarence.
Synopisis
When Aberdale Elementary's beloved playground equipment is replaced with safe, boring alternatives, Clarence and the gang seek out their old playground equipment in the legendary lost playground yard.
Characters
Minor Characters
Gallery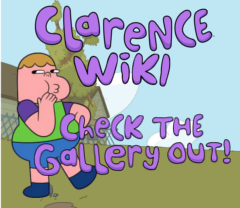 The gallery for "Lost Playground" can be found here.
Transcript
The transcript for "Lost Playground" can be found here.
Trivia
During the premiere of the episode, several TV listings mistook it for a new episode of LEGO Nexo Knights.
Cultural References
At the beginning of finding the scrapyard there is a reference to the pied piper.
Character Connection
This episode reveals Dustin has a secret relationship with Rita.
This episode also reveals Mr. Resse has been in Secretly in love with Ms. Baker since childhood.

Which explains the reason why he was trying to propose to her in "Honk"
It is quite odd, as he seems quite a bit older than her.
Reference
Clips/Videos
Ad blocker interference detected!
Wikia is a free-to-use site that makes money from advertising. We have a modified experience for viewers using ad blockers

Wikia is not accessible if you've made further modifications. Remove the custom ad blocker rule(s) and the page will load as expected.