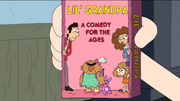 Lil' Grandpa is a movie that Clarence and Jeff watch in the episode "The Break Up". The actor who played the titular character was Bobby Bruster who died in 1998.
Trivia
Lil' Grandpa may be a parody/spoof to Mr. Magoo.
The actor might be a parody of Warwick Davis (size) and Curly Howard.