Lil Buddy is the 41st episode in Season 1 of Clarence.
Synopsis
After playing a bit too aggressively with his Lil Buddy doll, Clarence gets a timeout and his worst nightmare comes true – he misses recess and became a school's bully.[1][2]
Plot
Episode begins with Clarence showing the class an advertisement for a doll called, "Lil' Buddy". After that, Clarence shows everyone his own Lil' Buddy. At recess, Clarence wants the other kids to play with his Lil' Buddy, but no one wants to. When he tries to get Reed to play with it, Reed backs away and falls into the sandbox. Ms. Shoop gets angry with Clarence for making Reed cry, so she gives him a five minute time-out. Clarence can't stand having time-out while watching the other kids play, then he starts imagining years and years going by. Suddenly, Clarence stops imagining because Ms. Shoop tells him his time-out ended 5 minutes ago, and that he should start playing before the bell rings, but as soon as Clarence gets up to play, recess ends.
In chemistry class, Clarence is too disappointed to play with the goo. That night, in Clarence's room, Clarence is still really upset about missing recess, and he throws his Lil' Buddy at the wall, causing it's arm to fall off. After that, Clarence rides his bike to Bendle Park to bury his Lil' Buddy. The next day, as Mary drives Clarence to school, she tells Clarence a joke to get him to smile, but it doesn't work. At school, a montage starts showing Clarence being very upset, and not even having fun with Sumo and Jeff because he misses his Lil' Buddy. After awhile, Clarence goes bald and starts wearing a black hoodie. The montage ends with Clarence and Belson in detention. Belson tells Clarence that he actually looks cool, but Mr. Reese disagrees. Belson thinks he and Clarence should team up, and Clarence ignores him.
At recess, Clarence appears dressed as Lil' Buddy and he tries to get Jeff to hold the Lil' Buddy's broken arm. As Ms. Shoop is about to blow her whistle, Clarence tries to stop her. At that moment, Belson pulls down Clarence's pants, and the kids laugh at him. Clarence gets really angry and punches Belson. Dustin cheers and Clarence knocks him down. Later, Clarence sits inside the 'Cool off zone' room all by his lonesome. Some of the kids watches him from the outside, wondering what's going to happen to him, then Clarence is taken to the principal's office for his special punishment. When Clarence sits down, Ms. Baker reveals that it's her in the principal's chair. Ms. Baker talks to Clarence and gives him his Lil' Buddy back, which makes him happy again. Ms. Baker also mentions that it wasn't fair that Clarence missed recess, so she allows him to have his own recess just with Lil' Buddy. Clarence hugs Ms. Baker and goes outside to play. As Clarence enjoys recess, the other kids watch him from the window and Sumo says that they got their old Clarence back, ending the episode.
Characters
Minor Characters
Gallery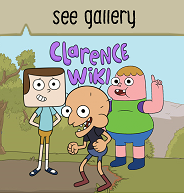 The gallery for Lil' Buddy can be found here.
Transcript
The transcript for Lil' Buddy can be found here.
Clips
References