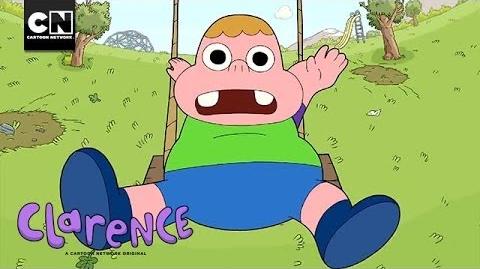 King of the World
is the opening theme song to
Clarence
. It is used in all of the episodes except for the pilot because it was not yet made. It was composed by
Simon Panrucker
.
Lyrics
Voices: I don't care what you say!
Gonna do what I want all day!

'Cause I'm king of the world!
I'm king of the world! [repeat 5x]
Yah!
Characters
Trivia
Clarence and Julien break the fourth wall (Julien smashes a watermelon with a baseball bat causing the juice inside the watermelon to fly at the screen and Clarence knocks his face into the screen).
The opening siren from the Looney Tunes theme is sampled at the very beginning as the camera zooms out from Clarence's eyes as hits one of the remote control buttons.
One of the clips used (the treehouse) will be part of Too Gross For Comfort. However there are differences in the intro and the episode.
The one of the clips flashing at the beginning of the intro is the backyard of Chalmers Santiago's house.
There is a rough animatic version of the intro in Tumblr.
In Season 2, a "CARTOON NETWORK ORIGINAL" (written in white) appears on the bottom of the "CLARENCE" logo.

Similar to all other CN Originals (Except for Gumball and Steven Universe) (Regular Show, which was the first show to introduce it), followed by others (Uncle Grandpa, Adventure Time, and We Bare Bears)
Ad blocker interference detected!
Wikia is a free-to-use site that makes money from advertising. We have a modified experience for viewers using ad blockers

Wikia is not accessible if you've made further modifications. Remove the custom ad blocker rule(s) and the page will load as expected.