Kimby is a minor character in Clarence. She is one of the students from Ms. Baker's class. She also appeared in "Clarence Saves the Day" as a supporting character.
Biography
Kimby is in the fourth grade and is one of Clarence's classmates. A shy and timid girl, Kimby is close friends with Courtlin and Malessica; the trio are often seen together ("Honk", "Zoo," and especially in "Slumber Party"). She considered Clarence gross and annoying until he was accidentally invited to her all-girl slumber party and the four had a good time after that.
Appearance
Aside from her irises being scaled down in size, Kimby's appearance hasn't change from the "Pilot". Kimby wears a blue dress with a white collar and black Mary Jane shoes with long white socks (or leggings). Kimby also has long, brown hair (which she keeps pulled to the left side) with a lavender bow on top.
Personality
Kimby is very shy and sometimes quiet and half of the time, she often holds her own hair to one side (which she stokes harder when she's nervous). Kimby is an all around "girly-girl": she wears fairy wings, enjoys dolls and makeovers and likes cute stuffed animals and ducks "Clarence Saves the Day".
Gallery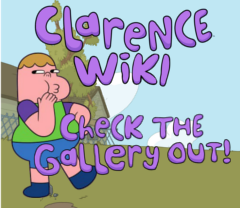 The gallery for Kimby can be found here.