Kevin is a minor character in Clarence. He worked with Mary as a hairdresser at Hip Clips. In "Hairence" he briefly quits the Hip Clips while Clarence is working there.
Appearance
Kevin is shown to be stout (meaning somewhat muscular) built man with light brown hair. He always wearing his purple bow tie.
Episode Appearances
Comic Appearances
Gallery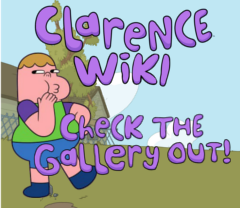 The gallery for Kevin can be found here.
Trivia
Kevin and his boyfriend are the first same-sex couple to be seen on the show.
It is also the first Cartoon Network original series to show a same-sex couple that is male. The first time a same-sex couple that was seen in a Cartoon Network show was shown on Courage the Cowardly Dog where the one-off characters Kitty and Bunny were a bisexual couple (although subtly implied).
Ad blocker interference detected!
Wikia is a free-to-use site that makes money from advertising. We have a modified experience for viewers using ad blockers

Wikia is not accessible if you've made further modifications. Remove the custom ad blocker rule(s) and the page will load as expected.