Kennan is a minor background character in Clarence. Not much is confirmed about him, but he is in Ms. Baker's class.
Appearance
Kennan appears to have a wide back and upper body (and somewhat look circular). He has a slim lower body and blue jeans connected to blue shoes. He wears a blue zip-up sweatshirt and wears his hood. Kennan has blonde bangs, with most of his hair covered by his hood.
Episodes
Season 1
Season 2
Season 3
Shorts
Comics
Gallery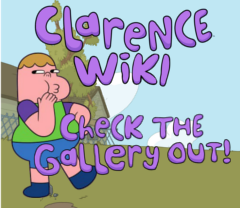 The Gallery for Kennan can be found here.
Trivia
In his sweatshirt, he looks pretty much like Bobby, a main character in Cha-Ching episodes.
He is also very similar to Kenny from South Park becasue their names are similar, they both where hoods with not much of their faces showing and have blond hair.
Ad blocker interference detected!
Wikia is a free-to-use site that makes money from advertising. We have a modified experience for viewers using ad blockers

Wikia is not accessible if you've made further modifications. Remove the custom ad blocker rule(s) and the page will load as expected.