Julien is a minor character in Clarence. He made his first appearance in "Money Broom Wizard".
Appearance
Julien is tall and slightly similar to Sumo. He wears green shirt, blue pants and blue shoes. Julien plays as a background character.
Gallery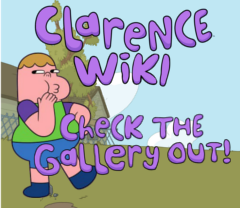 The gallery for Julien can be found here.
Trivia
He has 9 buddy stars in "Clarence's Millions".
He slightly resembles Sumo.
He is one of the two characters (the other being Clarence) who break the fourth wall in the intro.
In Too Gross For Comfort it is revealed he used to have a botfly maggot inside of him while visiting Belize.
Errors
There is a error in Average Jeff where he has Sumo's skin color and shirt for a brief moment.
Ad blocker interference detected!
Wikia is a free-to-use site that makes money from advertising. We have a modified experience for viewers using ad blockers

Wikia is not accessible if you've made further modifications. Remove the custom ad blocker rule(s) and the page will load as expected.