Joseph Sumouski is a minor character in Clarence. He is the older brother of Sumo. He first appeared in Dream Boat.
Appearance
He has the similar resemblance to his older brother, Tanner, except he wear a purple shirt with cut-up sleeves, and has brown shoulder-length hair that covers much of his eyes.
Episodes
Short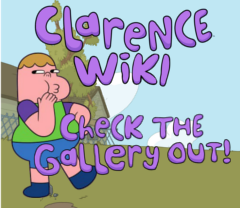 The gallery for Joseph can be found here.
Ad blocker interference detected!
Wikia is a free-to-use site that makes money from advertising. We have a modified experience for viewers using ad blockers

Wikia is not accessible if you've made further modifications. Remove the custom ad blocker rule(s) and the page will load as expected.