Jimmy Chakraborty is a minor character in Clarence, as he only appeared on Field Trippin'. He goes to West Aberdale Elementary.
Appearance
Jimmy has similar appearance and head shape like Sumo, except he has medium brown skin, with black bushy hair, and shorter than Clarence, and wears a uniform that has dark evergreen shirt and grayish-brown shorts.
Personality
As he first appeared to be extremely shy and nervous about making friends as he later seen talking to another girl about can he do a cartwheel as they both realize that both can't do a cartwheel, as both have in common and became friends.
Appearences
Gallery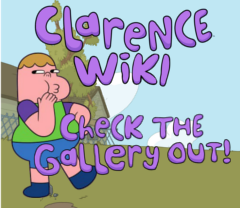 The gallery for Jimmy can be found here.
Trivia
Most people doesn't know how to pronounce Jimmy's last name.
Ad blocker interference detected!
Wikia is a free-to-use site that makes money from advertising. We have a modified experience for viewers using ad blockers

Wikia is not accessible if you've made further modifications. Remove the custom ad blocker rule(s) and the page will load as expected.