Jim Reese is a minor character in Clarence.
Appearance
Mr. Reese is a large, obese, grumpy middle-aged man who wears a a green shirt, white undershirt and brown pants. He is also balding and has a mustache.
Personality
He usually appears in the Detention room for majority of time, he friends with Ms. Baker, however in Honk, he had a bit of a affection for her, as he was giving her the ring in hopes of wanting to propose to her before being was interrupted by Clarence by his honk, in Dream Boat, he deeply cares about his students willing to succeed, especially with Sumo, who succeeded his goal. Although, he personally dislikes Belson due to him always being in detention all the time and for being extremely rude. In "Freedom Cactus", he seems to like Clarence's Comic, at the point from Ms. Shoop, who was against it, threatened Mr. Reese to censor it, where at the point he saddened about this.
Episodes
Season 1
Season 2
Season 3
Shorts
Comics
Gallery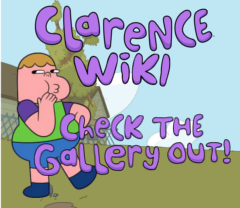 The gallery for Jim Reese can be found here.
Trivia
Reese is voiced by Donovan Patton, Who played Joe in Blue's Clues Season 5-Season 6. and voiced Bot on Team Umizoomi
Ad blocker interference detected!
Wikia is a free-to-use site that makes money from advertising. We have a modified experience for viewers using ad blockers

Wikia is not accessible if you've made further modifications. Remove the custom ad blocker rule(s) and the page will load as expected.