John Thomas, mostly known as JT is a minor character in Clarence.
Appearance
He's tail, has a semi-square head with long neck, and has medium brown skin, has a moustache and a rat tail, a mole on his cheek, he wears dark shaded glasses, a wide black shirt with flames and a dark gray shorts.
Personality
He's mostly silent but rather possesive about rat tails, as he mostly carries a walkman with a headphones, he inspires Clarence to get into how cool a rat tail is and as he showed Clarence to where others had also wore the same hairstyle.
Episodes
Season 3
Gallery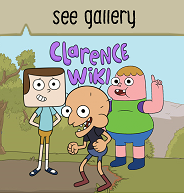 The gallery for JT can be found here.
Trivia
JT claims that the rat tail hairstyle that he and others wore are heavily inspired by Keith Mack.