JT is a character of Clarence (series)
Appearance
He's tail, has a semi-square head with long neck, and has medium brown skin, has a moustache and a rat tail, a mole on his cheek, he wears dark shaded glasses, a wide black shirt with flames and a dark gray shorts.
Personality
He's mostly silent but rather possesive about rat tails, as he mostly carries a walkman with a headphones, he inspires Clarence to get into how cooll a rat tail is and as he showed Clarence to where others had also wore the same hairstyle.4
Episodes
Gallery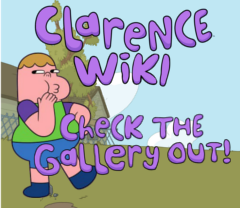 The gallery for JT can be found here.
Trivia
JT claims that the rat tail hairstyle that he and others wore are heavily inspired by Keith Mack.
Its unknown what JT's name stands for.
Ad blocker interference detected!
Wikia is a free-to-use site that makes money from advertising. We have a modified experience for viewers using ad blockers

Wikia is not accessible if you've made further modifications. Remove the custom ad blocker rule(s) and the page will load as expected.