In Dreams[1] is the 49th episode in Season 1 of Clarence.
Synopsis
While watching a TV show about dreams, Clarence dozes off and enters the whimsical dreamscape of his mind and meets a dream friend named Jeremy. Fearing that he didn't close the garage door like his mother told him to, Clarence struggles to sleepwalk his way to closing the door while Jeremy distracts him with other things.[2]
Plot
Clarence plays with a pineapple in the beginning of the episode, trying to make it explode by pumping air into it. Mary tells him to move while she backs out the car. Once she's beside him in the grass, she makes him promise to close the garage door so no possums will get inside. Clarence goes inside after she leaves and sits with Chad on the couch as a documentary about dreams begins playing.
Clarence remembers to go and close the garage just as the man on in the documentary begins talking about the surrealness of dreams. Clarence comes back to the couch before repeating the process again. When he comes back from closing the garage door this time, a young boy named Jeremy sits on the couch next to the sleeping Chad. After a few dream tests from the TV are tested like turning on a lamp and taking off a shoe (which Clarence discovers isn't his size), Clarence realizes that he is in a dream. Clarence immediately begins having fun with Jeremy and going on random dreamy escapades with him. He keeps having fun until he realizes it's possible he hasn't closed the garage door. Trying not to wake up to keep Jeremy alongside him, Clarence focuses enough to sleepwalk to the garage door. Jeremy tries to distract him with a party celebrating Clarence's closing of the door, including praise being given to him from his dream version of Mary, but snaps out of it and begins to close the door just as Mary returns home.
Jeremy begs Clarence not to wake up out of fear of not existing and Clarence not remembering him, to which Clarence promises he'll remember and wakes up. As Mary takes him inside, Clarence tells his mother about his dream and the garage door is finally closed.
Characters
Minor Characters
Dream Characters
Gallery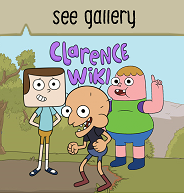 The gallery for In Dreams can be found here.
Transcript
The transcript for In Dreams can be found here.
Clip
References