Hurricane Dilliss is the thirty-seventh episode in Season 1 and the thirty-seventh episode of Clarence overall.
Synopsis
When Mary's mother visits, she interferes in all aspects of Clarence, Mary and Chad's lives.
Characters
Main Characters
Minor Characters
Trivia
Character Connection
This episode reveals Mary used to be with a man named Damian (possibly Clarence's biological father) before Chad.

Since Dilliss says she hasn't seen Clarence in two years (probably when he was 7) and since she had to have Damien's disappearance explained to her, it can be referred that Damien left within two years before the episode.

This episode reveals that Mary has a tattoo, though it is unknown exactly what or where.
Chad meets Mary's parents for the first time in this episode.
This is the first of few episodes where Clarence went out of character: this was later seen in "Lil' Buddy" and "Where The Wild Chads Are".
Episode Connection
Episode Notes
Though Jeff Bennett provided Seymour's voice, he sounds very noticeably like Hank Hill from King of the Hill, to the extent where it may be a reference.
References
Videos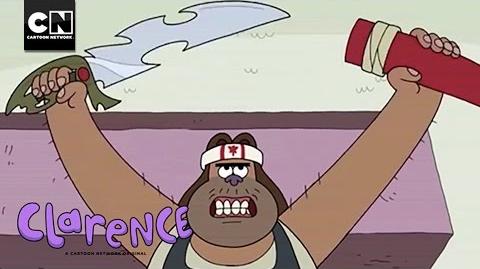 Ad blocker interference detected!
Wikia is a free-to-use site that makes money from advertising. We have a modified experience for viewers using ad blockers

Wikia is not accessible if you've made further modifications. Remove the custom ad blocker rule(s) and the page will load as expected.