Hoofin' It is the thirty-eighth episode in Season 1 of Clarence.
Synopsis
Everyone's excited for the annual Aberdale Greased Pig Chase, except for Clarence.
Plot
Buckey O'Neill tells a story. In it, Clarence weeps inconsolably for Butterscotch, suddenly it occurs to Jeff to disguise Clarence as her, he and Sumo pull Butterscotch out of his cart. Sumo disguises Clarence and prepares him for the race. When it is night, Cooter and Seabass mention that it will be easier to catch the pig because of his fatness. At dawn, the race is ready, Randall greases Clarence with mud and opens the door of the cart, then he starts running and heads to the forest, making all the spectators join the race. Butterscotch breaks the Guy-Scraper wall, taking Jeff along in the process. Clarence finally finds a hiding place in a log and goes to talk to Sumo, but Seabass and Cooter find him and both enter the trunk along with Sumo, causing the trunk to roll and break when hitting a stone. All the spectators realize that Clarence was disguised as Butterscotch the whole time and claim for the real pig, suddenly, Butterscotch runs by with Jeff in her rear, Donna-Joe announces that he is the winner, causing fury to the all the spectators, They begin to destroy the whole place, ending the episode with the trio fleeing the scene.
Characters
Major Characters
Minor Characters
Trivia
Butterscotch, Cooter, Seabass and Donna-Joe are the only four debuting characters.
Errors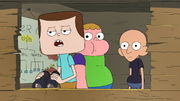 Jeff's tongue turns white when he turns his head.
Video
References