Hershey Golightly is a minor character in Clarence. He is the father of Camden. He first appeared in "Where The Wild Chads Are".
Appearance
He appears to look similar to his son, Camden, except he has balding hair, he wears a light teal shirt and dark olive pants.
Personality
Hershey is a very protective about his son and overreacts to accident which gets in the way of his memory and in reason. He loves to help people but sometimes gets carried away. Despite his overprotective nature he was still willing to take Camden camping.
Episodes
Season 1
Season 2
Season 3
Gallery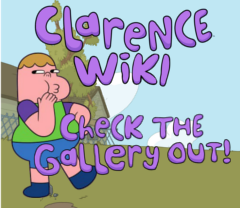 The gallery for Hershey can be found here.
Trivia