Goose Chase is the thirty-second episode in Season 1 of Clarence.
Synopsis
Clarence imagines himself as the king of the birds until a persistent goose gets greedy.
Plot
The episode begins with some people in Bendle Park spending a while, Bradster is running until Clarence appears hidden from a bush, this scares him and Clarence apologizes, Clarence was hiding in different ways, suddenly, he feels hungry and talks to his stomach, then he finds a sandwich and goes to eat it alone, but he starts talking to the sandwich and some birds come to eat the crumbs of the sandwich, so he decides to give the whole sandwich to many birds that came to eat it. But suddenly a big goose comes, Clarence ignores it; After he and the birds spend some time together, he sees him in a castle full of birds, all the birds wanted to dance with the sandwich, but a great lack of control is generated when the sandwich is finished and Clarence is passed various things. But that was really invented by Clarence's imagination, the sandwich was over and the birds left, although the goose was still waiting for food, Clarence tries to explain that he ran out of food and leaves, but the goose does not lets he go, he tries to get away, while he does it, some things happen to him, he had to leave every place he went because the goose chased him, Clarence tries to ignore the goose, but realizes he has the goose in front of him, so he runs to the forest and falls down the mountain, then he finds his notebook with the hiding places and tries to hide in the mud, the goose finds him and Clarence quickly escapes, then he gets into a tube with water, Clarence does not throw himself away because he thinks he is very tall, but he decides to throw himself away because the goose was chasing him, however, there was almost no height to the floor, Clarence, already tired of running away, asks the goose what he wants, the goose simply goes with other geese that were flying, so Clarence is relieved to his house talking to himself until all the geese go to him to attack him and there the episode ends.
Characters
Major Characters
Minor Characters
Gallery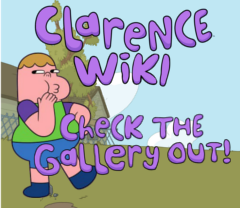 The gallery for "Goose Chase" can be found here.
Transcript
The transcript for "Goose Chase" can be found here.
Trivia
Clip
References