Goldfish Follies is the thirty-third episode in Season 1 of Clarence.
Synopsis
Clarence struggles to get his new goldfish friend into water when its bag breaks.
Plot
In this episode, Clarence wants a goldfish, so he goes down to the store and gets one. But then its bag breaks, so Clarence tries to keep it under control. But this is made hard because there are so many dangerous things out there, like a walking sword person, a parade, and a woman who almost accidentally eats the fish. Clarence gets a call from Sumo, who is hungry, so Clarence finds some sausages and puts them through the phone line for him to eat. Eventually, Clarence gets the fish home. The old cartoon was over, while in the real life when his mom comes in, the fish looks dehydrated and everything is a mess, causing her to leave the room without a word.
Characters
Major Characters
Minor Characters
Gallery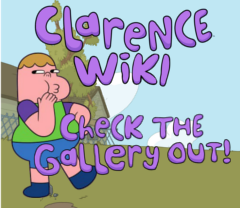 The gallery for "Goldfish Follies" can be found here
Transcript
The transcript for Goldfish follies can be found Here
Trivia
This episode was suppose to be the final episode of Season 1, but it was postponed.
This episode was intended to air on December 5, 2014, but it delayed to 4/9/15.
Cultural References
The episode has a similar art style to 1920's-early 1930's Fleischer Studios animation.
Other than the store owner, all the characters in Clarence's imagination have four fingers. This is a reference to how old time cartoon characters, most notably ones created by Disney and Warner Bros, were drawn with four fingers to save time. This continues to be a popular practice on many modern animated shows, such as the Simpsons.
Character Connections
Jeff doesn't appear in this episode.
Episode Connection
The episode stays constant with the show's real-world setting by explaining at the end that Clarence imagined most of it.
This episode notably changes the intro. While the animation stays the same, the colors are changed and the audio is redone in a barbershop quartet style and made to sound vintage.
When Clarence tosses a hose at the outside, the ice-cream cone guy in surfboard have appeared again from Patients.
Running gags
When Clarence opened his can phone, the can phone said "SUMO!".
Goofs
If those hot dogs were sent wireless, but still via phone line, Clarence's can phone should have a wire on it.
Since those hotdogs were real, physical objects. All foods can't be eaten if sent in and out via electronic wires/circuits.