Gabbie is a minor character in Clarence.
Appearence
Gabbie has a triangle-like head with brown hair and a pink hairband on it. She wears a blue dress on top of a pink shirt and brown shoes.
Personality
Very little is known about Gabbie at the moment. 
Gabbie, like most background characters, enjoys playing along with fads and having crazy fun. In "Clarence's Millions" she can be seen fighting with Guyler and Unnamed boy with glasses over the Clarence Dollars and in Honk she's seen next to Debbie, playing a part in Clarence's horn symphony.
Episodes
Season 1
Season 2
Trivia
Gallery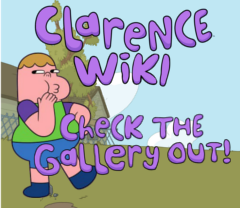 The Gallery for Gabbie can be found here.
Ad blocker interference detected!
Wikia is a free-to-use site that makes money from advertising. We have a modified experience for viewers using ad blockers

Wikia is not accessible if you've made further modifications. Remove the custom ad blocker rule(s) and the page will load as expected.