Escape from Beyond The Cosmic is the 6th episode of season 2, the 57th episode overall of Clarence.
Sypnosis
Clarence breaks Jeff's favorite arcade game, so he creates a real-life version of it at home.
Plot
The episode begins with Jeff playing an arcade game in a laundry while Clarence has fun, Jeff wants to complete the game, loses in the first level, anyway, he inserts another coin, since he had brought a few to play, when he arrives At the last level, he gets excited, but Clarence was walking around the laundry with a cart and he collides with the game, which makes it break, Jeff gets very angry, Clarence thinks it can be repaired with a "secret code", A lady says they'll fix the game in a few hours, Jeff gives her his phone number so he can call him as soon as he's finished fixing.
At Clarence's house, he thinks of many things to play, seeing that Jeff does not want to do anything, apologizes to him, Jeff lies down in the armchair to wait for his call, meanwhile, Clarence takes many things to the garage, when Jeff he goes to see, Clarence had made a version of his game in real life, Jeff did not want to play, but he gets tired of Clarence bothering him and decides to play.
At one point, he enters the trunk of Mary's car, at first he likes it, but Clarence starts bouncing it and gets out of there, outside Clarence did everything, there was also a "mysterious box", Jeff starts playing the "level one" ", until suddenly a call arrives and he attends excited asking if they fixed the game, but it turns out that the caller was Chad, so Jeff cuts the phone a little disappointed and takes the game, this time has to give another coin to Clarence for having "left the game", then he continues playing and manages to finish "level one", Clarence shows Jeff his statistics, he starts to question things, and as Clarence does not understand, he simply goes to "level two" in which he must find special objects in the bathroom, while Jeff does it, Clarence is narrating everything he does and Jeff completes the level, Clarence gives him an "extra life".
Then, both are at the snack, talking about the game invented by Clarence and Jeff comes up with how to make the game more fun; then, both made a "mountain of flour", which they break and go to the next level where they play with some balls, when they finish, Clarence asks Jeff if he is ready for the last level,
the two are left talking and Jeff enters the house, suddenly sees that he has 3 messages on the phone, one of those was the laundry lady to let him know that the game was repaired, then he goes to the laundry to finish the game, but does not have any currency, so he asks one of them to an old woman who was there and the game begins, a little nervous to finish it, in Clarence's house, this one is calling Jeff, who had just finished the game and wants tell Clarence, but he was not there, so he goes back to his house to tell him that he does not have any coins, the episode ends with Clarence and Sumo chasing Jeff
Characters
Major Characters
Minor Characters
Trivia
This episode has the longest title for the entire series from 25 characters.
Jeff's voice gets noticeably deeper in this episode due to Sean Giambrone going through puberty.
In the fighting (red) title card, the very top line says "Action Buddies presents", a connection to We Bare Bears.
Also, in the (green, swamp) title card, the very top line says, "Harience represents," which is a connection to the episode, "Hairence"
Cultural Reference
The title card is reference to the 1981 Nintendo game Donkey Kong.
The mushroom spawning sound effect from Mario appears in this episode.
Errors
The foam darts are gone instantly without someone picking them up when Jeff shoots through Clarence's toy.
Gallery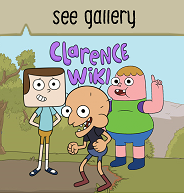 The gallery for Escape from Beyond the Cosmic can be found here.
Transcript
The transcript for Escape from Beyond the Cosmic can be found here.
Video Clip
Reference