Dustin Conway is a supporting/minor character in Clarence and is a student from Ms. Baker's Class. He likes karate as seen in the online game, "Clarence Saves the Day". He was also seen in the background of "Fun Dungeon Face Off" and played a major role in "Pretty Great Day with a Girl".
Appearance
In his first appearance in "Fun Dungeon Face Off", he was much paler than in later episodes, and wears a blue shirt rather than a yellow one.
In all later episodes, he has red pants, a yellow long-sleeved shirt, multiple teeth, orange hair, and a large nose/overbite, and has pink skin, like Clarence and white shoes.
Gallery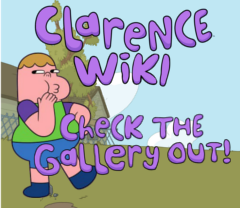 The gallery for Dustin can be found here.
Trivia
He likes to do guy things such as playing video games, football, and pinecone wars.

Despite this, he talked about girls a lot in "Pretty Great Day with a Girl" and talked like one quite a bit, although it may have been his overbite that made him talk like that.

In the online game "Clarence Saves the Day" it is revealed that Dustin does karate.
He looks similar to Randall Weems fro​m Recess.
Ad blocker interference detected!
Wikia is a free-to-use site that makes money from advertising. We have a modified experience for viewers using ad blockers

Wikia is not accessible if you've made further modifications. Remove the custom ad blocker rule(s) and the page will load as expected.