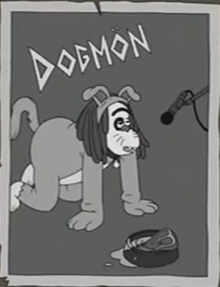 Dogmon is a band of unknown gender. Chad said in episode Nothing Venture that he participated in the band.
Trivia
the episode shows the garage Clarence's house which has some posters of bands, including Dogmon (on the door).
Dogmon appears to be a goth band.
Ad blocker interference detected!
Wikia is a free-to-use site that makes money from advertising. We have a modified experience for viewers using ad blockers

Wikia is not accessible if you've made further modifications. Remove the custom ad blocker rule(s) and the page will load as expected.