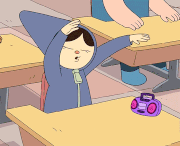 Darlie is a minor character in Clarence. She is a student in Ms. Baker's class.
Biography
Darlie is one of Clarence's classmates in Ms. Baker's fourth grade class. She is often seen in the background during Clarence's adventures, but has yet to make a significant appearance.
Appearance
In the "Pilot", Darlie wears a long red hoodie and white boots. Though the hood covers most of her head, you can see her blonde bangs in the front.
For the remainder of the series, Darlie is redesigned and wears a long blue hoodie with a huge zipper in the front. Her hair is now brunette and she wears blue boots.
Episodes
Season 1
Season 2
Shorts
Comics
Gallery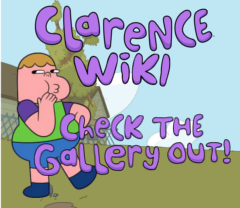 The gallery for Darlie can be found here
Trivia
Ad blocker interference detected!
Wikia is a free-to-use site that makes money from advertising. We have a modified experience for viewers using ad blockers

Wikia is not accessible if you've made further modifications. Remove the custom ad blocker rule(s) and the page will load as expected.