Crendle is a minor character in Clarence. He is a student in Ms. Baker's class. He made his first appearance in the "Pilot".
Appearance
Crendle appears to be a short kid with brown, combed hair and no sideburns. He has circular white eyes and a green iris. Crendle wears a yellow long-sleeved shirt and brick red shorts, along with dark blue shoes.
Personality
He appears to be very timid and nervous, as seen in "Dollar Hunt". Also in "Clarence's Millions", he appears to be babyish due to him sucking his thumb in the episode, however it appears that his personality a far less than Percy had.
Gallery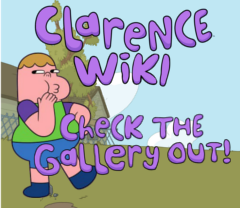 The gallery for Crendle can be found here.
Ad blocker interference detected!
Wikia is a free-to-use site that makes money from advertising. We have a modified experience for viewers using ad blockers

Wikia is not accessible if you've made further modifications. Remove the custom ad blocker rule(s) and the page will load as expected.