Courtlin is a minor character in Clarence. She is one of the students in Ms. Baker's Class. She was first seen in the Pilot.
Biography
Courtlin is fourth grader and one of Clarence's classmates. She is close friends with Kimby and Malessica and the trio can often be spotted together. Courtlin is mostly irritated by Clarence's antics and isn't afraid to say so, although she starts to consider him more of a friend after he shows them a fun time in "Slumber Party".
Appearance
Courtlin has dark brown hair and giant pigtails. She wears an orange tank top, purple pants and magenta boots.
Personality
Courtlin has a confident personality and isn't afraid to speak her mind: she tells Clarence that "...the horn is, like, super unbecoming of you." ("Honk") She also seems to care a lot about her education and her future, asking Darlie if she "think[s] I'll have enough buddy stars to get into a good college?" ("Clarence's Millions") Deep at heart, however, she is still a child who likes to have fun. Courtlin is more than willing to have a crazy fun time and hop on the bandwagon, like the Clarence Dollar craze from "Clarence's Millions" and when she participated with everyone in Clarence's horn symphony in "Honk".
Gallery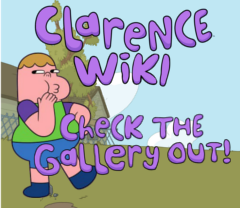 The gallery for Courtlin can be found here.
Trivia
She has 6 buddy stars as seen "Clarence's Millions".
It shows that Courtlin doesn't like Jeff as she says impolite things about him.